SESAHUBA SOLUTION TO MANAGE YOUR COMPANY

SESAHUB, dashboard and indicator tracking software based on digital visual management
The SESAHUB digital management solution is used to manage your company using indicators. It is a dashboard connected to all company screens. SESAHUB works using an SQL server. As a result, this software is launched using a web address.

All the company's technological and digital tools have access to the platform, like a touch screen tablet, interactive screen or smartphone. This offers employees the option to acquire or distribute data.

This real-time information sharing generates performance indicators. These can be viewed at a glance and improve company effectiveness as it becomes more responsive. SESAHUB is based on the principle of digital visual management.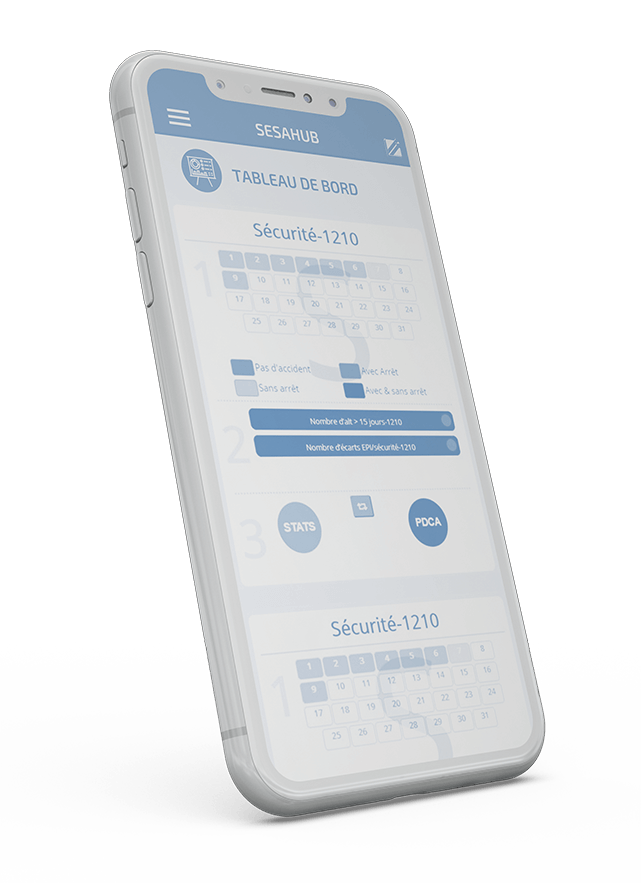 Mobility suited to all areas
Being mobile is a priority, particularly during a Gemba Walk. In order to make your Lean processes more effective, SESAHUB is compatible with all screens. i.e. the software works on telephone, tablet or computer.

You can collect information more easily wherever you are, in just a few clicks on your mobile phone.
Coordinate your meetings visually
The data collected and recorded in SESAHUB from a telephone can be accessed immediately by everyone. Your meetings will be based on updated and real-time data. You no longer need to enter information multiple times. Access figures, performance indicators, schedules, agendas in the same location. Everything is centralised to make your work easier.

Is the meeting over? Draft a summary directly on the platform to communicate with your employees on future actions.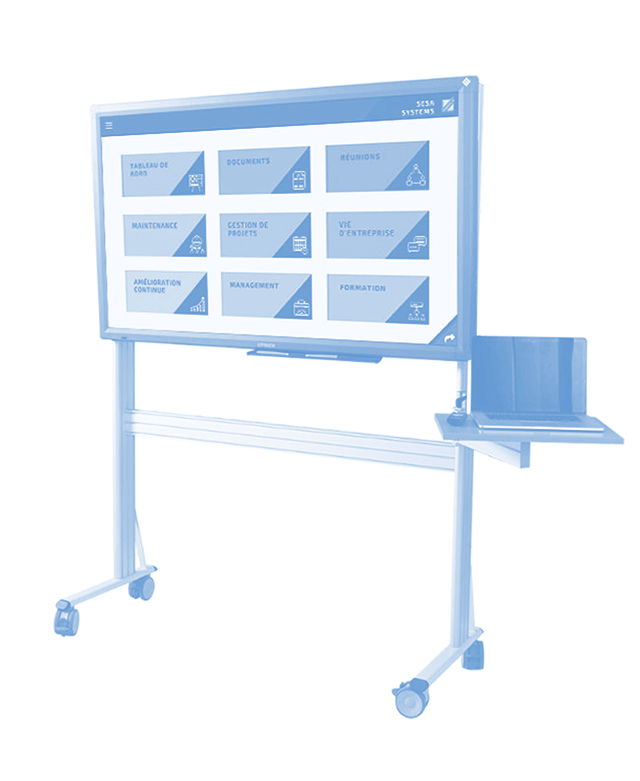 The
two versions

of the business management software
SESAHUB Visual Management
Base module:
Dashboard with a main licence per site
Unique feature:
Used for classic business management
Additional modules:
The modules of the SESAHUB platform, a tool dedicated to industry 4.0

Dashboard
This module is a dashboard completed by the operator. Fully configurable and adjustable, the dashboard reflects your action plans. For example, for the implementation of Lean manufacturing, you can create SQCDP indicators.
How should you organise your indicators? ➔

Documents
The objective is to have a "paperless" workstation but with a connected screen to access digital documents centralised via the company's server. It stores files like assembly guides, order forms or any other document which seems relevant. The permitted formats are PDF, Word, Excel, JPEG.
How should you manage your digital documents? ➔

Meetings
This feature makes meetings simpler. Thanks to the management platform, you can share your minutes, schedules and agendas. Making this element connected helps ensure that all staff have received the important information.

Maintenance
In a Lean factory, maintenance is crucial. Company production relies on machines working properly. Known as Total Productive Maintenance (TPM), the principle is to act quickly when a problem is detected. Thanks to SESAHUB, communicating with the maintenance service has never been so quick. You are able to create anomaly reports indicating which machine is faulty simply using a machine location map.

Project management
The business management software offers a crucial feature for all managers: project management. Every company wants to improve and develop, and it carries out projects for this purpose. To carry them out successfully, SESAHUB includes a schedule in its web platform, as well as milestone tracking and documents.

Slideshow
Digital visual management relies on communication and information sharing. To carry out these tasks successfully, we offer a slideshow module. This allows you to easily build slideshows based on your performance indicators. It also allows you to distribute documents, visuals and information on the company's operations.

Continuous improvement
Continuous improvement, otherwise known as Kaizen, is one of the basics of Lean management. Many Lean companies implement projects or audits. In order to identify your position, the continuous improvement feature is used to track your projects, help you with management and implement Lean methods.

Management
As a management solution, SESAHUB has a module dedicated to team scheduling, holidays, sick leave and employee training. This makes a manager's administrative tasks easier.

E-Audits
This module offers audit standards within a company. An inspection list is converted into a 5S, SMED or procedure compliance form. Following this audit, you can generate a report. A photo is associated with the input list to highlight watch points.

Wallboard
The Wallboard is a summary visual presentation of the day's key or priority indicators. A colour code is used to make it easier to read (green or red). This makes it possible to easily view the day's key events, urgent tasks and the day's important information. This module optimises response time and reinforces group work.

Training
Company improvement through employee training. To do this, a training module is created with 17 themes. The topics discussed include safety, Lean management, 5S, etc. It is important to train every newcomer to the company in best practices.

Walk
The Gemba Walk is a managerial practice encouraging teamwork and problem fixing. Using SESAHUB and a tablet, you can now complete your Gemba Walk digitally.
Our tips for a successful Gemba Walk ➔

Shortcuts
Saving time is very important. To avoid getting lost when changing working platform, a custom shortcut bar is available. For example, it is possible to create direct links to your ERP software, MES software and CMMS software.
Discover the SESA-MES software ➔

Languages
The SESAHUB software is available in 6 languages: French, English, German, Dutch, Spanish and Portuguese.
The benefits of SESAHUB, the Lean management solution
SESAHUB is a simple and intuitive dashboard. There is no installation as it is a web app. Only an IP address is required. The main purpose of thismanagement solutionis to eliminate unnecessary tasks during data input. This is used to improve and boost the performance of the company and employees.
Digital visual management offers real-time data to respond more quickly and optimise your action plans. In addition, as all data is saved on the servers, SESAHUB ensures complete traceability of action plans, but also performance indicators.
From a security point of view, SESAHUB requires an SQL server, either internally at your company or externally at our site. In order to support you with your digital transformation, we have made online help available to you. This includes video tutorials available from the management platform. Help is also available for server and SESAHUB solution setup.
What is digital visual management?
Smooth and simple communication within a company is critical. Information must be visible, legible and understandable by all. Digital visual management helps with the internal communication and distribution of data. The aim is simple: to improve company efficiency. How? Industry 4.0 tools help collect data from the field. Thanks to these information sources shared in real-time, it is easier to implement corrective actions. This communication method is based on the principles of Lean management.
The benefits of digital visual management ➔
The services to set up the management solution
Like any software using a server, SESAHUB requires setup. The management solution can be installed by SESA SYSTEMS teams. We offer several solutions for this purpose.
– Half-day remote software setup
– Software setup/training day at your company in France
– Software setup/training day at our premises in Criquebeuf-Sur-Seine (27)
Following this platform installation day, you can use it from all your digital screens. We offer training days to allow you to use SESAHUB independently.
Using SESAHUB in an industry 4.0 environment