The E-MEETING, a large multitouch digital display from 55 to 98 inches
✅ An easy-to-use interactive screen
🚀 The E-MEETING is a giant screen with the same functionalities as a tablet
🔌 A PC can be connected to the touch screen: internal or external
👁 Screen size makes visual collaboration easy
⚡️ Multitouch technology enables simultaneous projection of multiple media
🌀 20 touch points make E-MEETING a fast, efficient interactive screen
✍️ Finger or stylus touch operation
Description
 The E-MEETING is an interactive digital screen for handling all types of documents. With your finger or stylus.
 For example, i.NOTES makes annotating documents, images and websites child's play. A special feature enables these notes to be saved and shared instantly.
 However, it is possible to connect a computer to this touch screen in two different ways. The first is to connect a laptop directly to the screen to project the computer's content.
 This connection is made via the HDMI ports present on the giant screen. The second solution is to install a central processing unit behind the digital touch screen. This configuration is an additional option.
Organize and design a connected communication space for hybrid visual management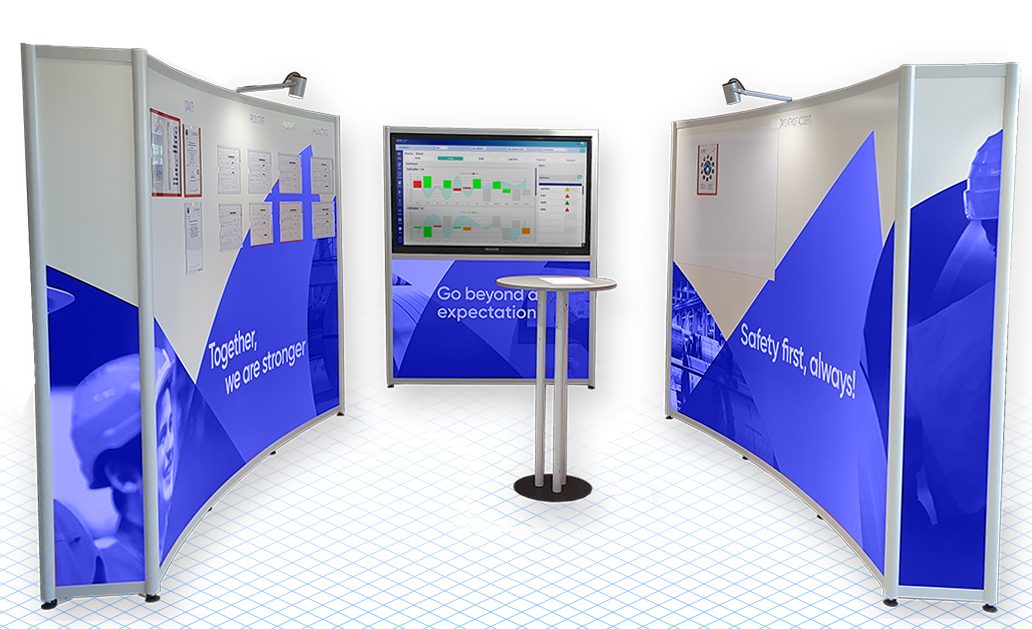 The design aluminium base guarantees mobility in your premises for optimized meetings.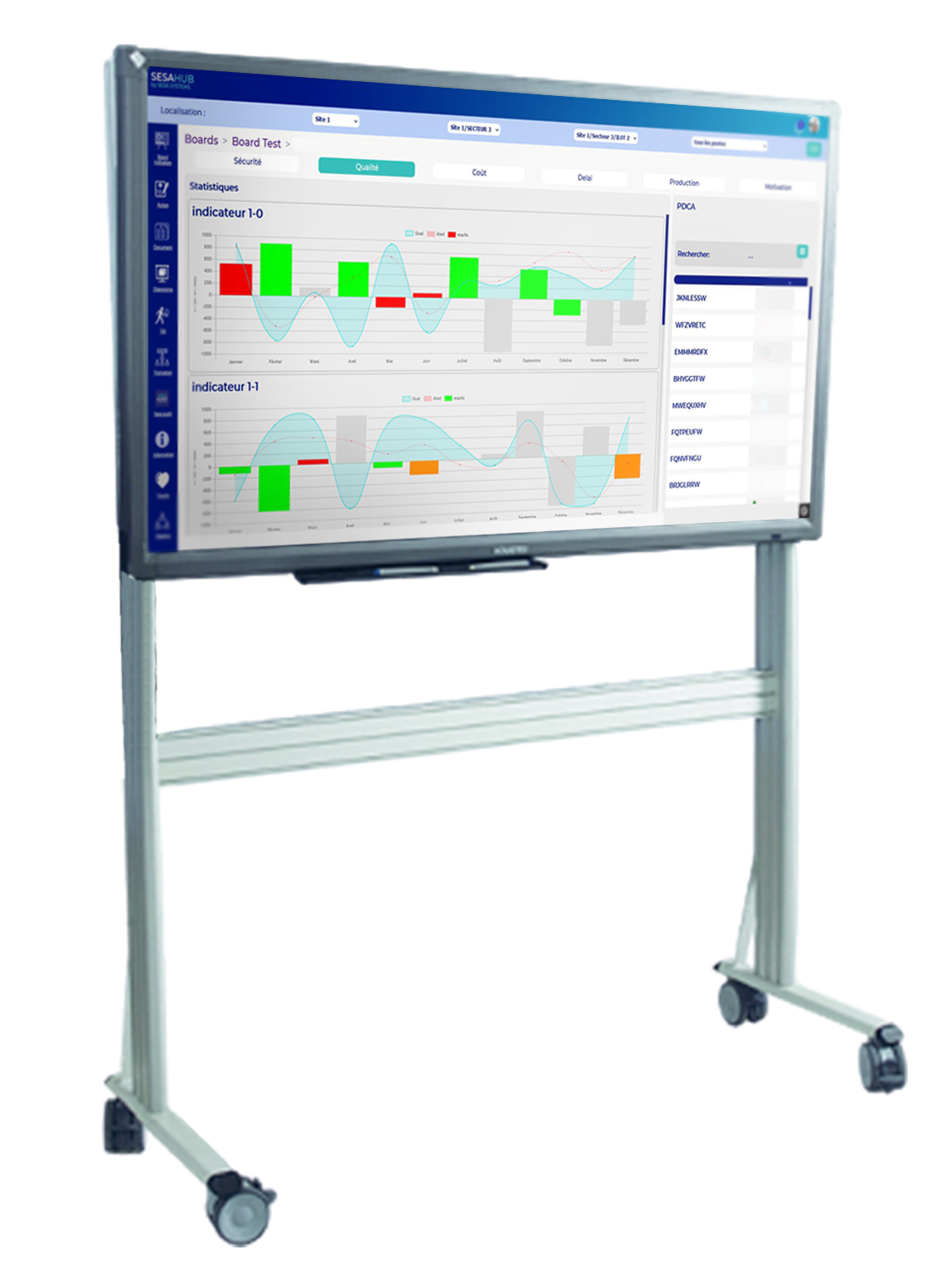 Combine digital visual management and physical display. Ideal for debriefing, meeting animation or group work.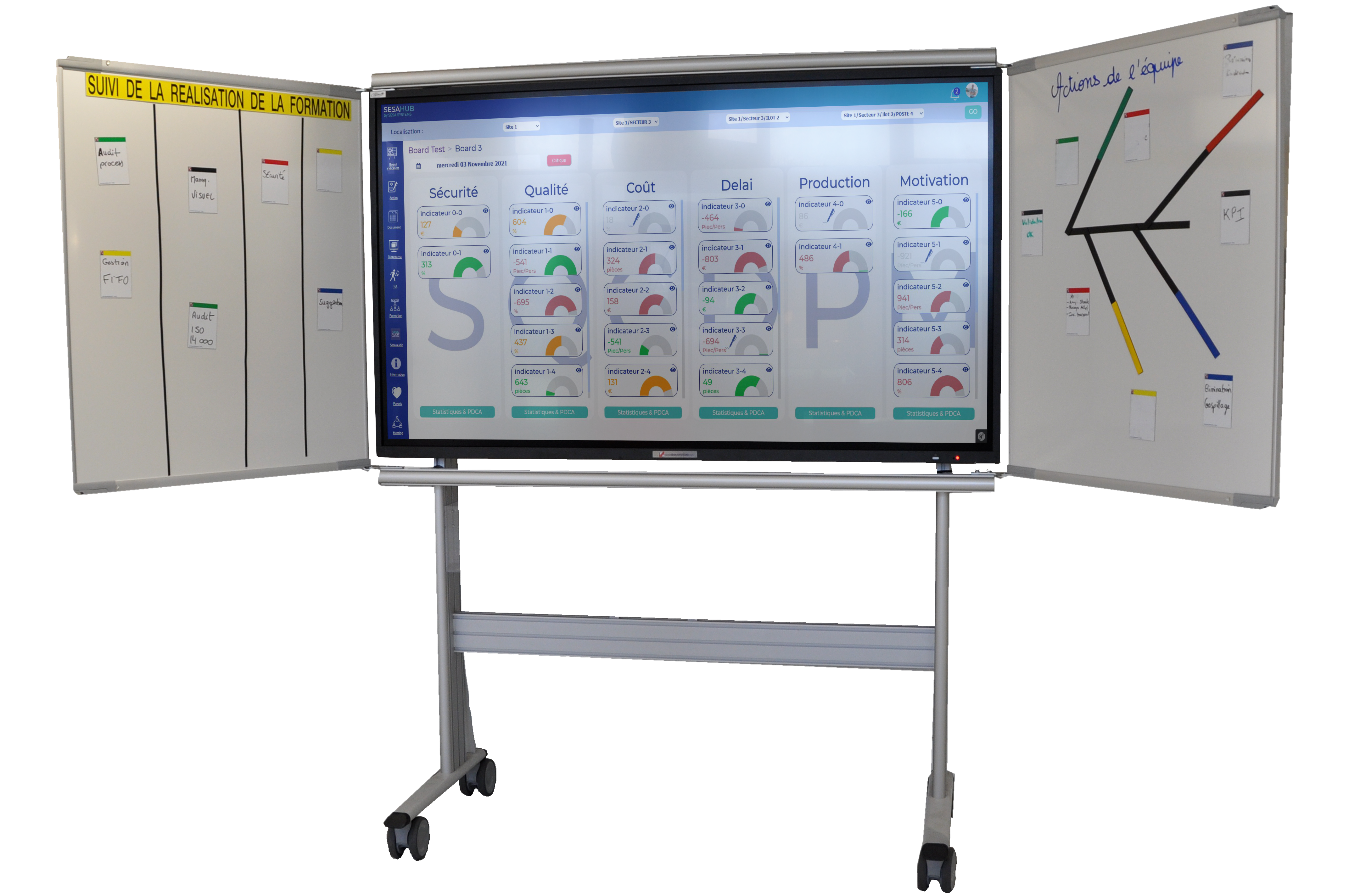 The electric aluminium stand allows you to fix your screen in place, giving you mobility and greater comfort to encourage the use of correct postures.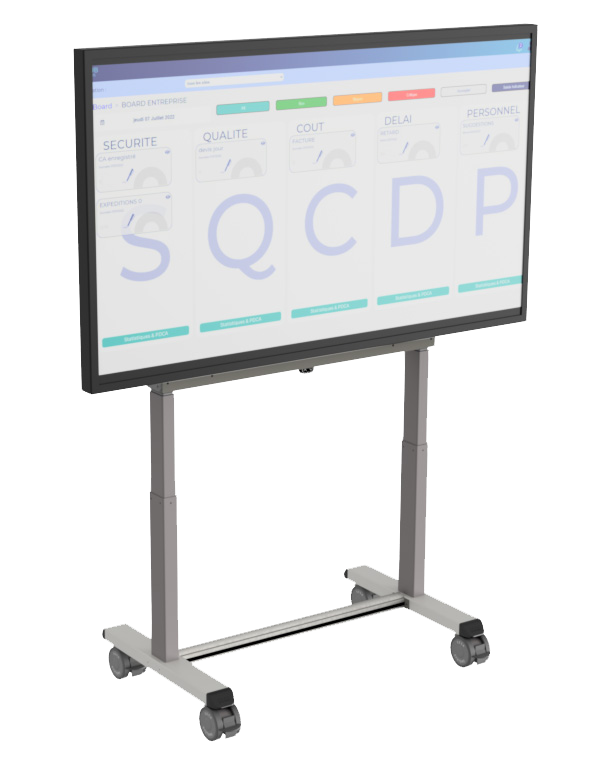 The ideal interactive digital screen to energize your meetings
As its name suggests, E-MEETING is a tool designed to organize business meetings with ease. This 55″, 65″, 75″, 86″ and 98″ touch screen allows everyone around the table to see the screen and its display clearly.
Presenters will enjoy scrolling through slideshows, brainstorming or training their teams. The multitouch screen features V-Sense technology and 20 contact points for easy and, above all, precise dragging and writing.
A wide color palette is available for finger-printing, as is a virtual keyboard. To erase these annotations, simply use the digital eraser.
Several thickness sizes are available for these two functions, enabling meetings to be brought to life to the full. Finally, E-Share enables the screen of a smartphone or tablet to be broadcast on the E-MEETING.
Monitor your production data in real time
This digital screen can be connected to the SESAHUB software, offering a wide range of additional functions: display of production performance indicators (SQCDP, OEE), sales data, schedule management, a maintenance section with anomaly reports, project management, and more.
This giant connected screen is a real tool for Digital Visual Management. Visual Management corresponds to the display of performance indicators. The principle is simple: disseminate information in real time.
E-MEETING can be used as a digital touch screen for monitoring production data. In this way, your company will move towards INDUSTRY 4.0.
How do I get the E-MEETING?
👉 You can order the interactive touchscreen from our online store: www.sesa-systems.com
🚛   Shipping within 5 days
🔐  Secured payment
TÉLÉCHARGEZ NOTRE CATALOGUE INDUSTRIE 4.0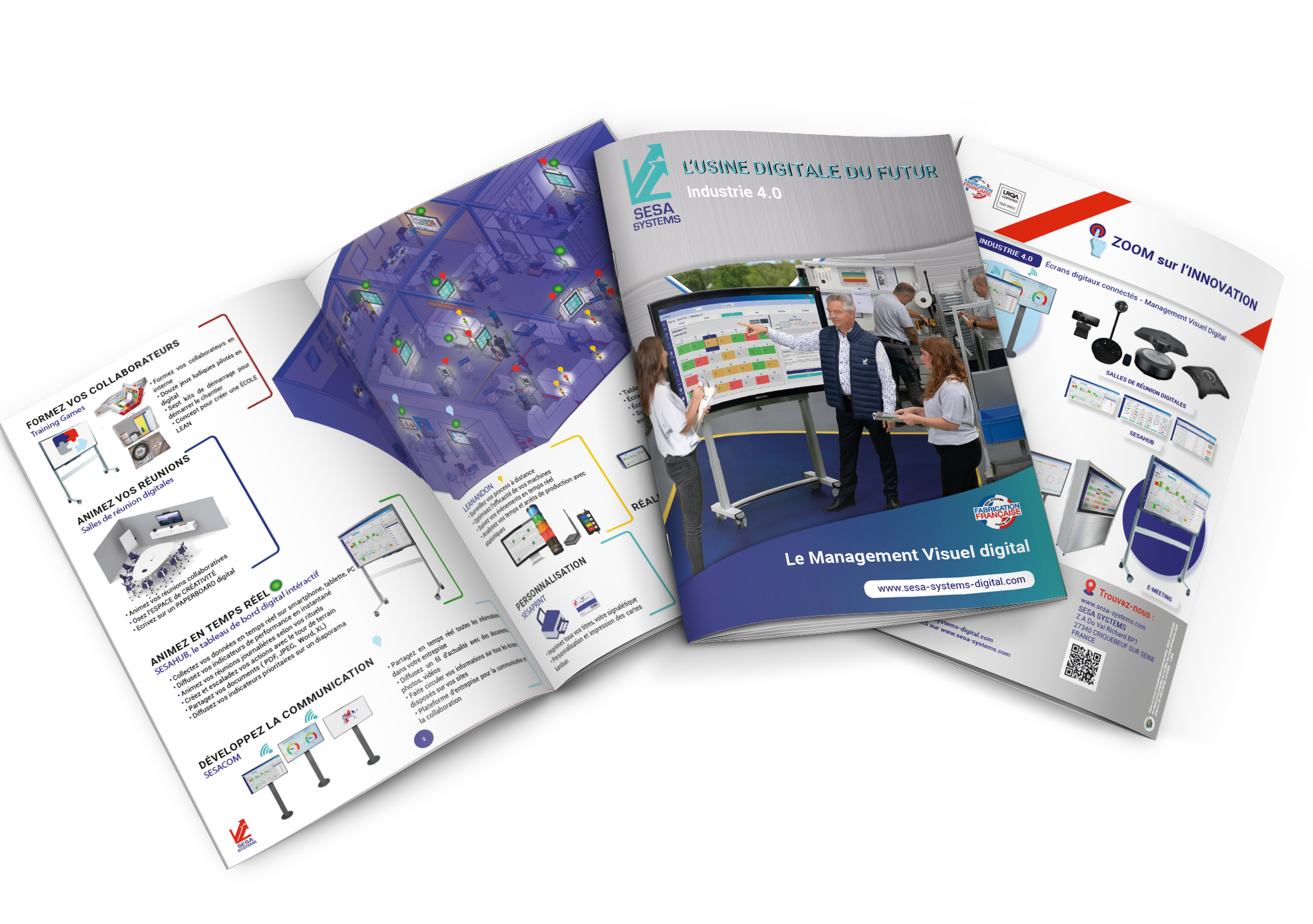 THESE PRODUCTS MAY BE OF INTEREST TO YOU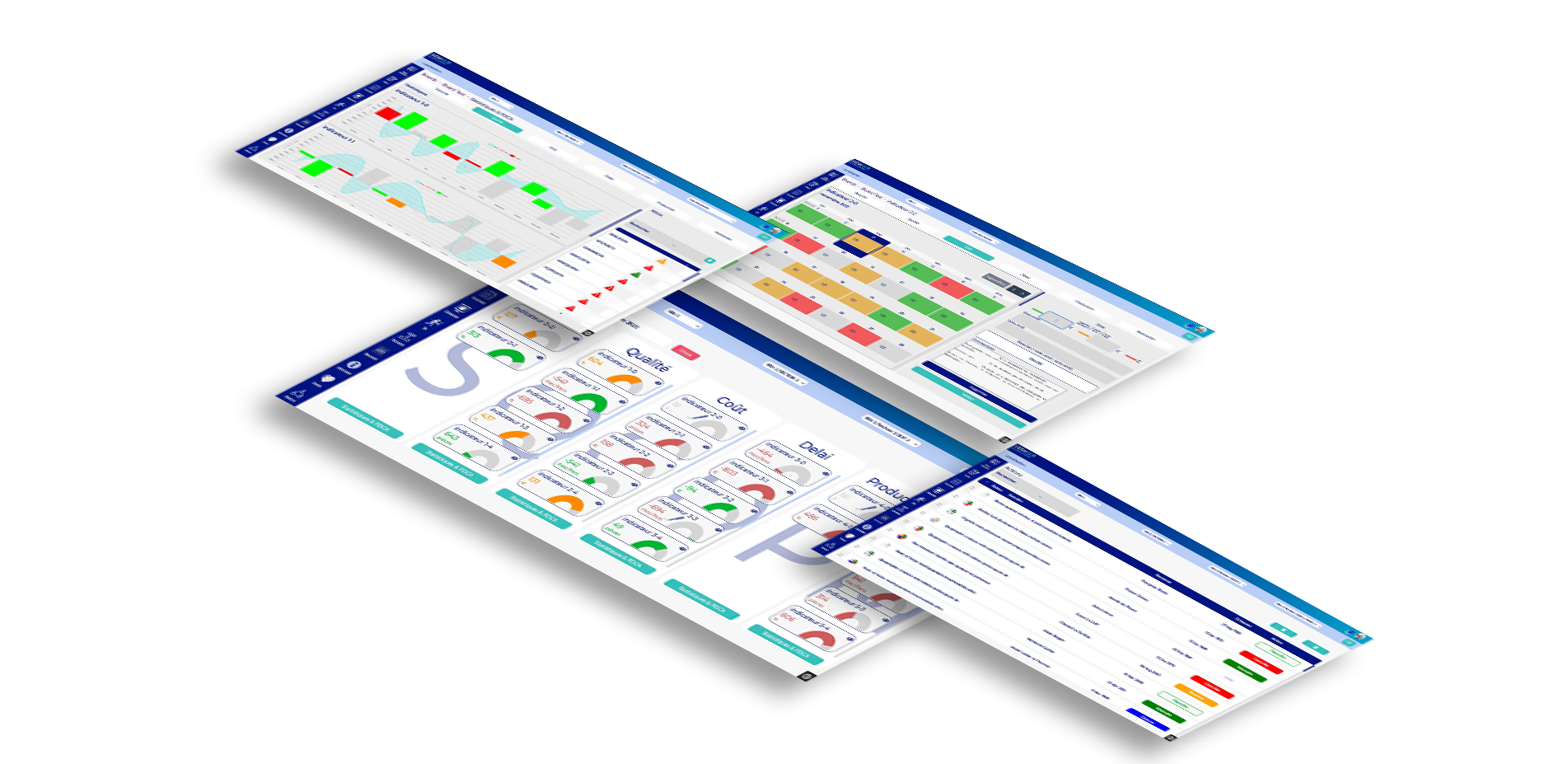 Digitalize your Visual Performance Management and action plans
SESAHUB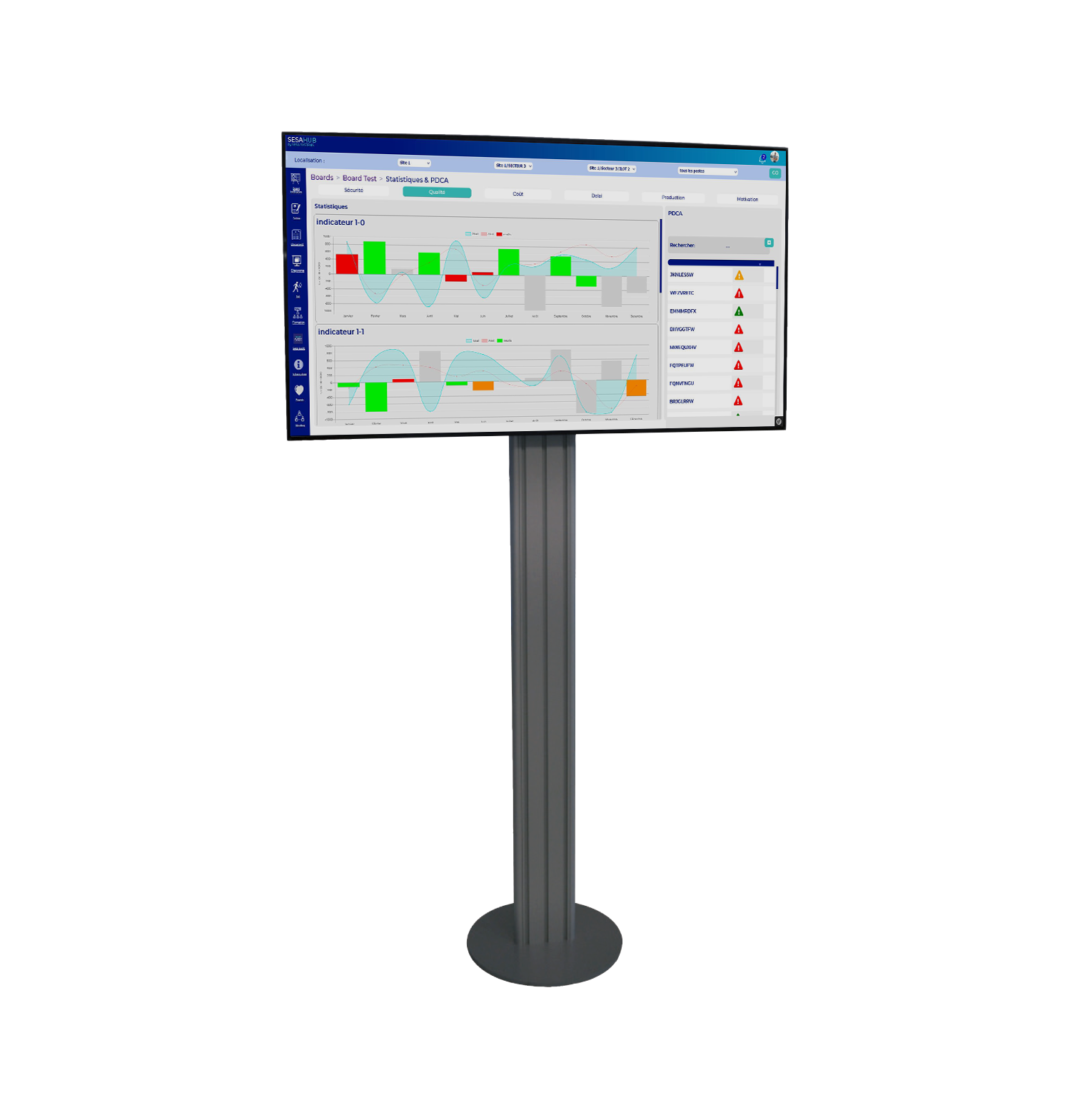 43″ or 65″ connected screen dedicated to digital animation management. Message control on different channels
E-LEANBOARD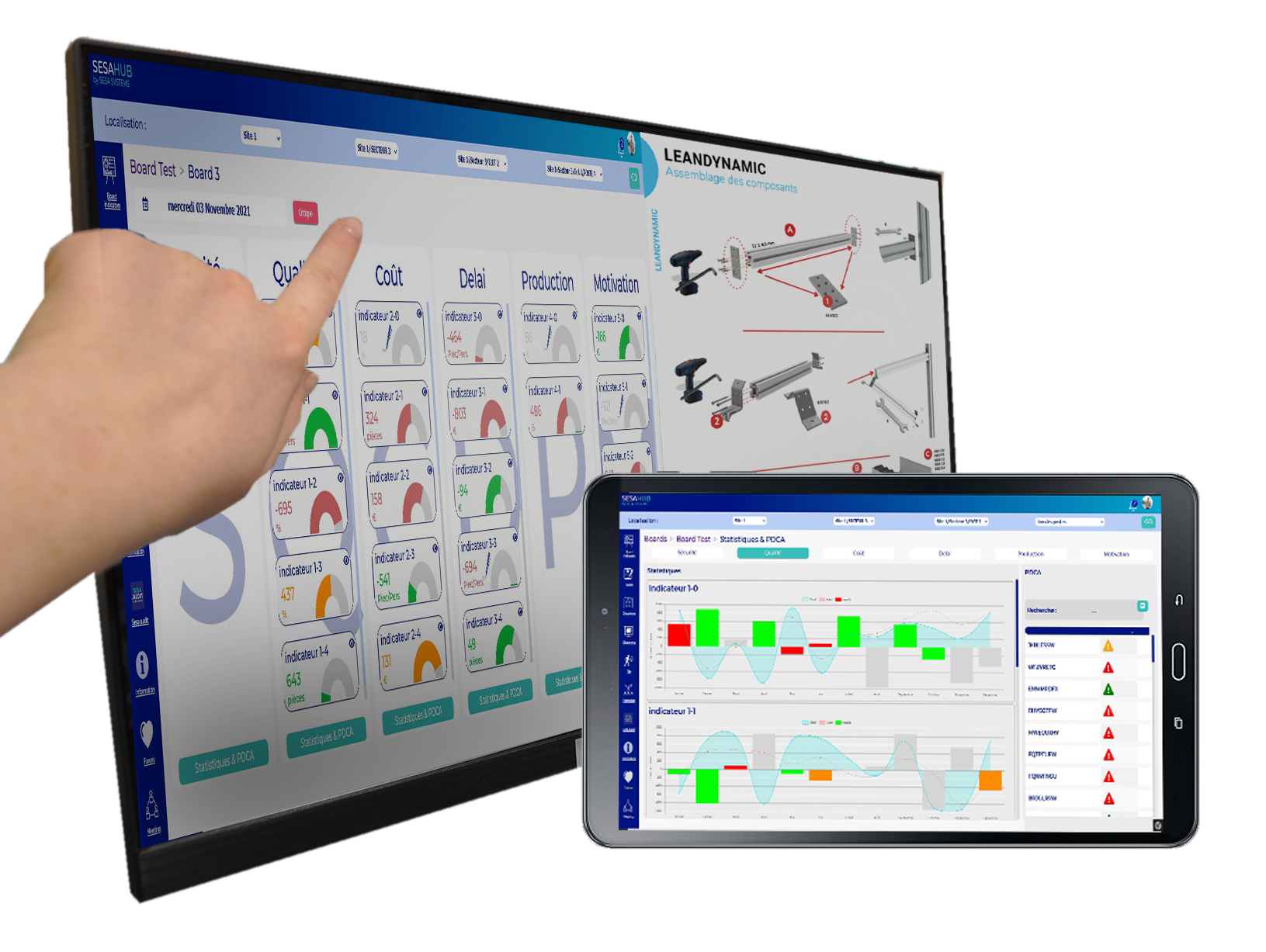 Documentation and monitoring of indicators at the digital workstation
E-STATION / E-DOCBOARD