In 2011, at the Hannover Fair for Industrial Technology in Germany, the term "Industry 4.0" was mentioned for the first time. Also known as the industry of the future, smart manufacturing or the factory of the future, Industry 4.0 is the fourth industrial revolution.
THE FIRST INDUSTRIAL REVOLUTION: MECHANICAL PRODUCTION
The first industrial revolution dates from the middle of the 18th century to the end of the 19th century. It corresponds to the exploitation of coal and the creation of the steam engine by James Watt in 1769. It is characterized as an industrial revolution, since it transformed the craft manufacturing mode by mechanical production. During this period, artisan workshops were replaced by factories, in which the steam engine was used to drive production machines and thus increase production rates. This marked the beginning of small-scale production
.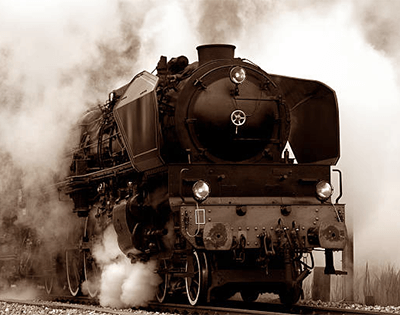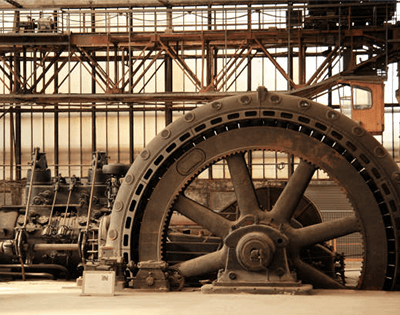 THE SECOND INDUSTRIAL REVOLUTION: TAYLORISM
The second industrial revolution took place from the end of the 19th century to the end of the 20th. It came about thanks to new, more modern means of production: the use of oil and electricity. Industry took advantage of these innovations to power its machines, which became electric. This period saw the rise of Taylorism, assembly line work and mass production.
THE THIRD INDUSTRIAL REVOLUTION: TOYOTISM
The third industrial revolution dates from the middle of the 20th century and is based on information technology, technological innovation and telecommunications. It was thanks to these that automation was introduced. The third revolution once again modified production plants by adding robots, making the production site more flexible and optimizing it for high-volume production. This revolution is notably characterized by the Toyota company, which put an end to Taylorism, thanks to the LEAN system.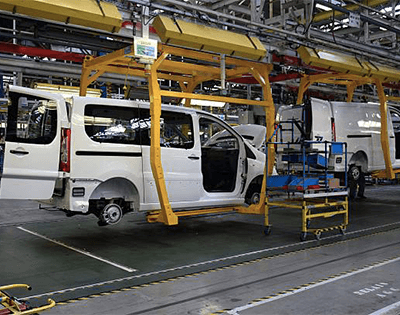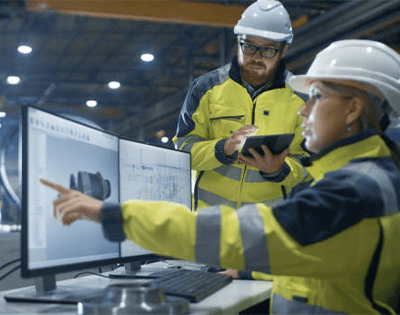 THE FOURTH INDUSTRIAL REVOLUTION: INDUSTRY 4.0
The fourth and latest industrial revolution to date appeared in 2011. Industry 4.0 integrates technological and digital objects into factories to optimize business activity. Production methods are therefore more intelligent, since all objects, machines and operators in the value chain are interconnected. To achieve this, Industry 4.0 relies on 8 technologies.
🌐 IoT - Internet of Things
This term refers to the materialization of the Internet in the real world. It encompasses all objects, be they vehicles, buildings or other, as long as they are connected to an Internet network. In other words, a microchip, sensor or other form of connectivity must be present for objects to be connected and able to communicate with each other, collect and exchange information. Iot therefore enables objects to be remotely controlled and monitored.
⚙️ CPS - Cyber-Physical Systems
A cyber-physical system is one that autonomously exchanges information, controls processes and triggers actions according to "circumstances". This is achieved by means of physical sensors, which feed information back to a decision server, which in turn triggers an action. This system forms a decision loop that can act on its environment on a continuous basis.
🔗 Twin models - Digital Twin
According to Raksmey han, a digital twin is usually a 3D model of a process, product or service. It's a duplicate of the main object, modeled using sensors to collect data. Thanks to this, it is possible to know the object's position in space, its condition, its temperature and so on.
🖨️ 3D Printers
Additive manufacturing or 2D printing is a tool for creating physical objects layer by layer, by successive addition of material. Through Industry 4.0, 3D printing makes it possible to produce unique, customized products quickly and at low cost.
🔐 Cyber-security
Cybersecurity is the protection of Internet-connected systems against cyber threats to hardware, software and data. As Industry 4.0 develops the Internet of Things, it is more than necessary to protect IT assets against data piracy and the risk of remote takeover of production tools.
🤖 Cobot - collaborative robot
Cobots are collaborative robots used in industrial production plants. In effect, the cobot becomes a colleague, helping the operator in his daily work. These robots are safe and assist the operator in the most arduous or repetitive tasks.
☁️ Cloud Computing
Cloud Computing, otherwise known as computing in the cloud, is a shared, on-demand network providing access to IT services and resources such as servers, databases, storage and software, over the Internet, with the aim of delivering faster innovation, flexible resources and economies of scale.
👓 AR - Augmented reality
This technology makes it possible to integrate 3D virtual elements into a real environment. The principle is simple: combine the virtual and the real to obtain information quickly for all collaborators. In this way, augmented reality enhances employee efficiency, as do cobots.
Thanks to all this connectivity, companies are able to reduce labor costs and energy consumption, and increase the efficiency of industrial processes. Today's factories are no longer churning out mass-produced products, as consumers want unique, customized products that meet their needs. Industry 4.0 responds to this demand by creating a flexible, connected factory through the intensive use of digital tools
.
DOWNLOAD OUR INDUSTRY 4.0 CATALOG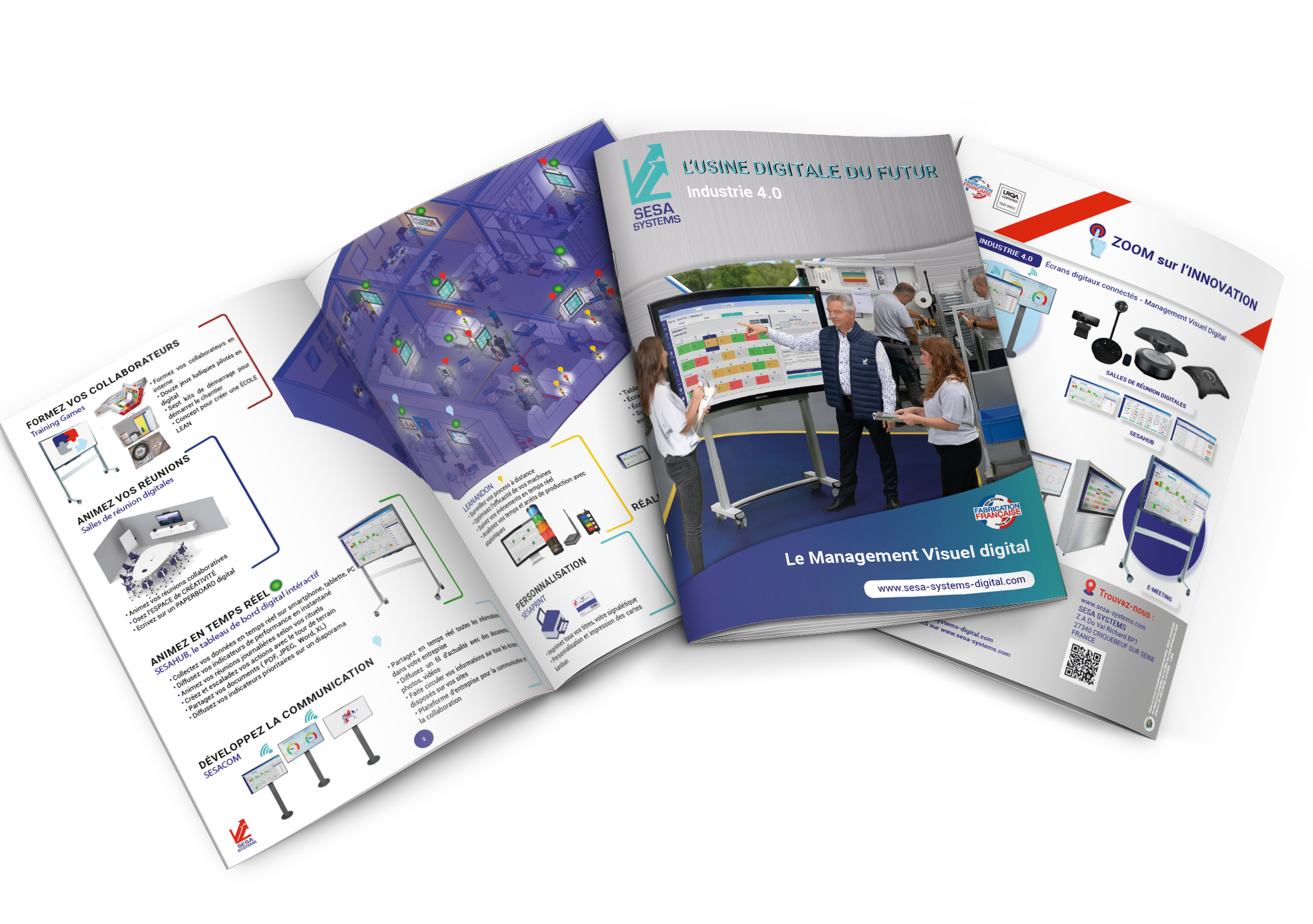 THESE PRODUCTS MAY BE OF INTEREST TO YOU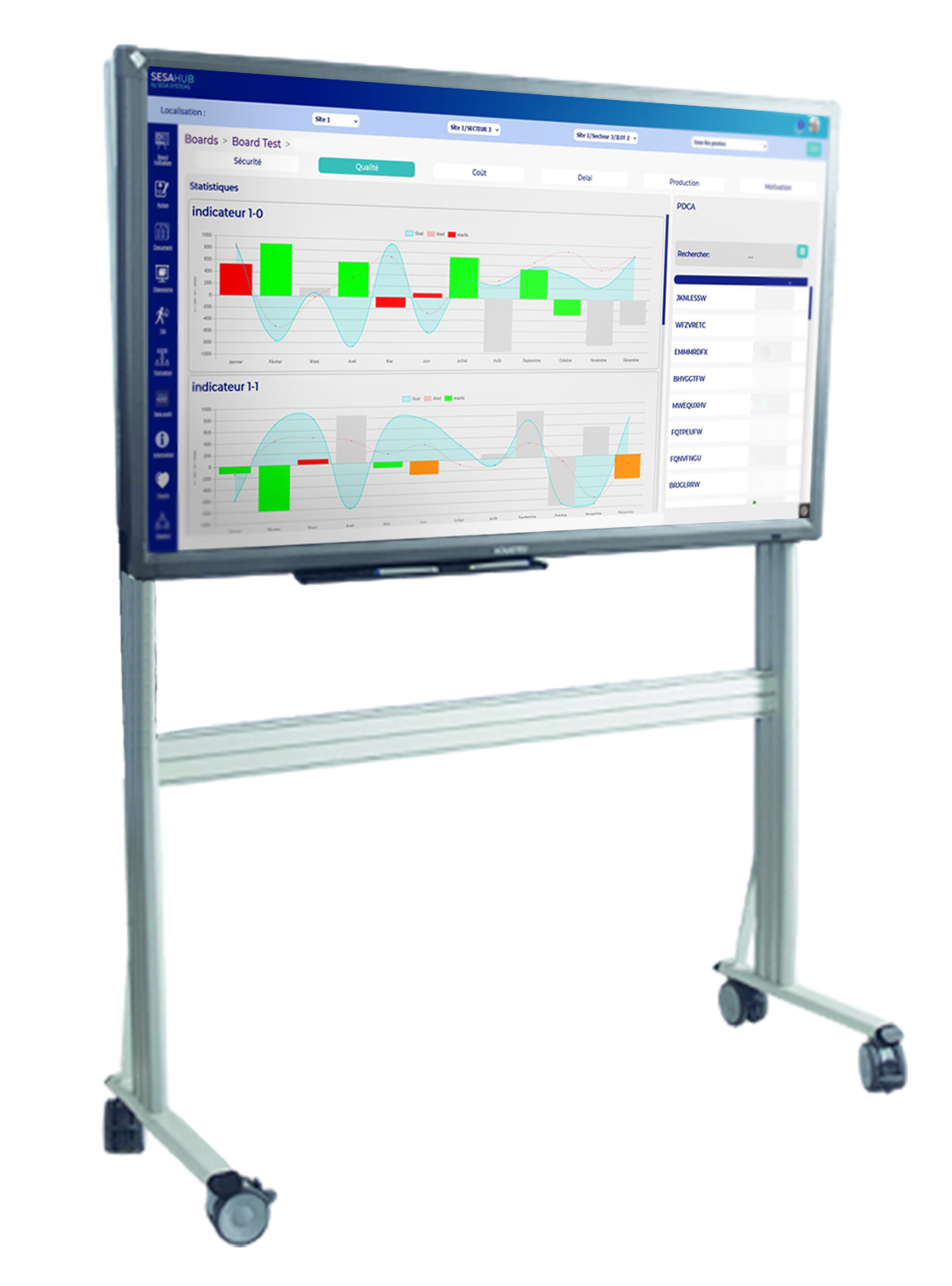 E-MEETING is an interactive digital screen for handling all types of documents.
E-MEETING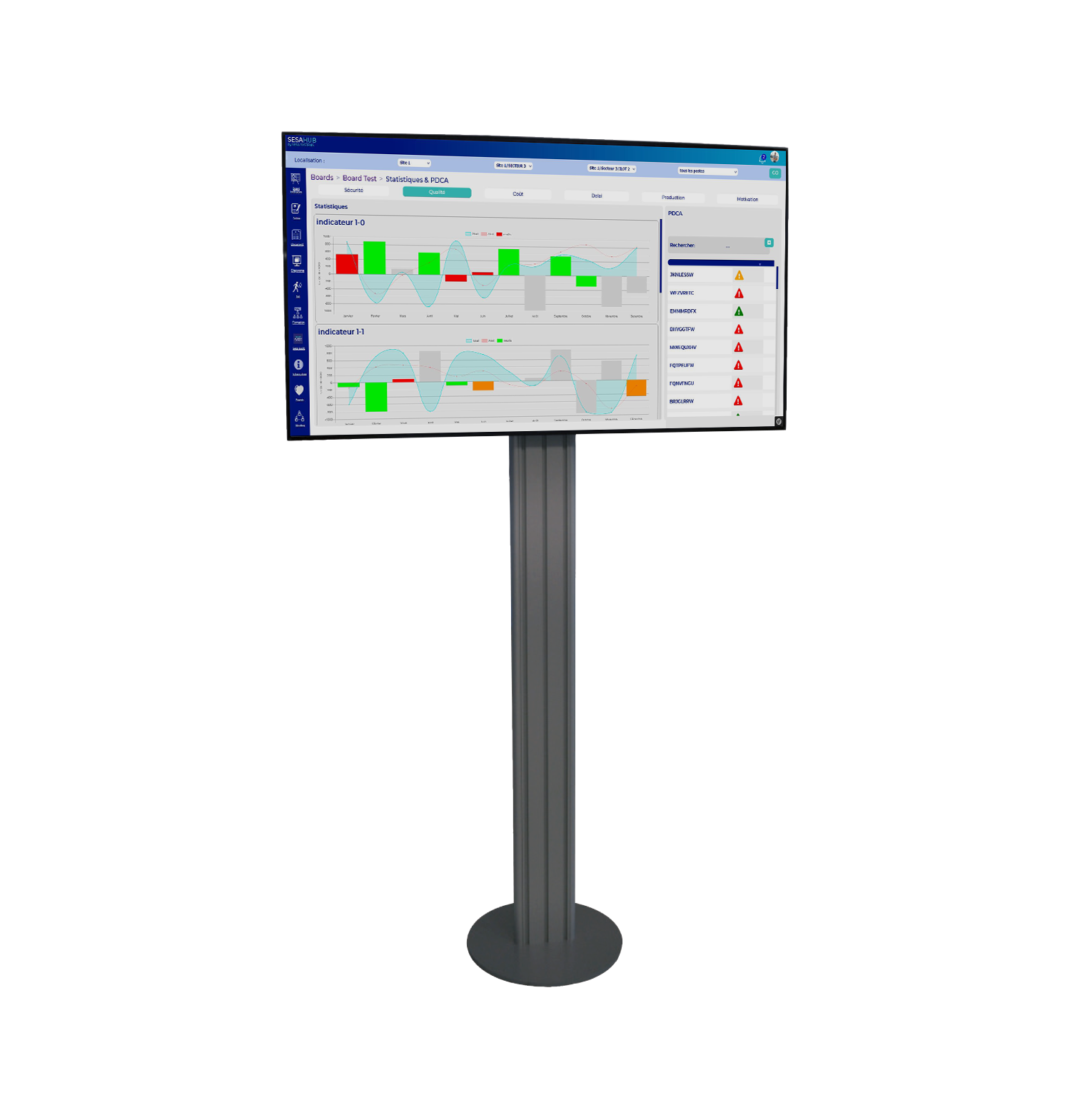 43″ or 65″ connected screen dedicated to digital animation management. Control messages on different channels
E-LEANBOARD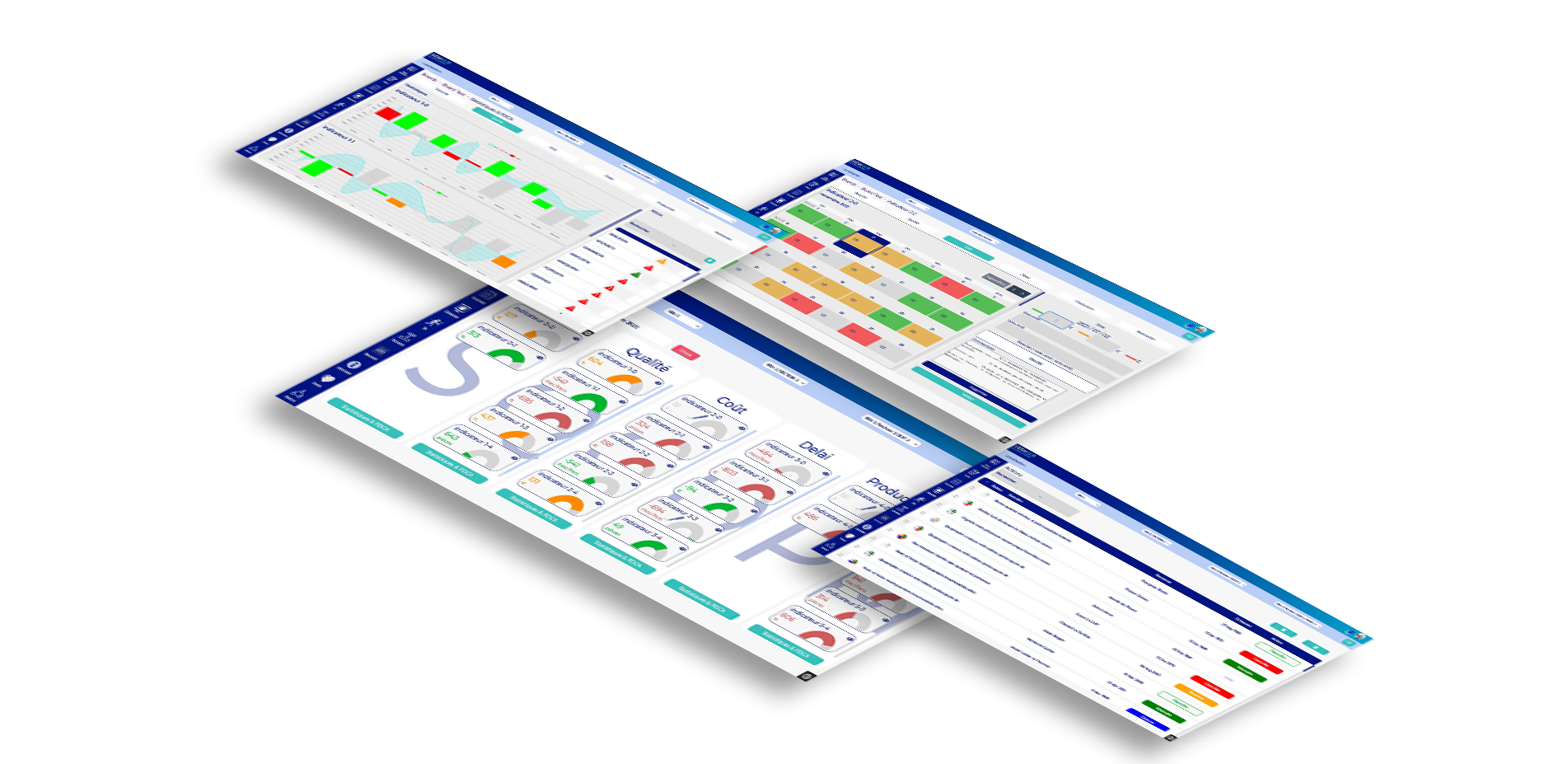 SESAHUB, a dashboard and indicator monitoring software based on Digtal Visual Mangement.
SESAHUB