Adjustable offers tailored to your organisation !
Benefit from simple pricing defined based on your needs. SESA SYSTEMS support can address your company's specific needs.
Firstly, discover our offers: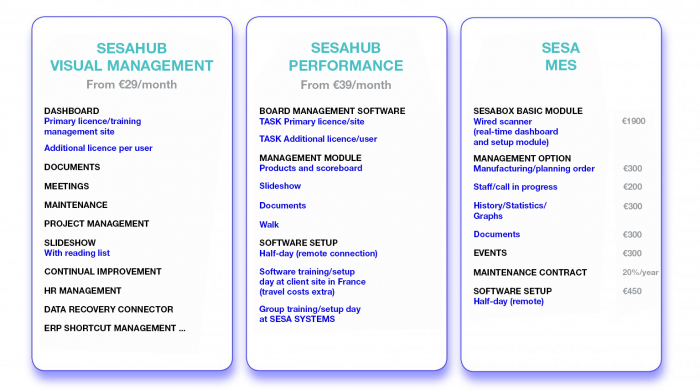 The ideal turnkey tool
Beyond the initial setup, employees can customise their devices and choose their company's software which they need to complete the tasks.
All SESA SYSTEMS devices are designed to be used instantly. They include an array of features and intuitive applications. Plenty of assets to allow you to be more productive and efficient than ever.
A quality experience
The business world is gradually adopting a new model encouraging the use of INDUSTRY 4.0 tools. Get up and running quickly! SESA SYSTEMS offers schedule templates, action plans, indicators and various other pre-completed materials.
You can also help employees to improve their skills with the rapid training module where they will find useful advice.
Contact us !
Interested in an offer?
Contact us or make an appointment with one of our business managers.