ANDON LIGHT COLUMNS AND MACHINERY MANAGEMENT
Andon light columns can optimize your visual management. The LED lamps indicate the status of an activity zone. Previously selected indicators allow you to effectively manage your activities. INDUSTRY 4.0 by SESA SYSTEMS offers a complete digital chain from data input to sharing information on digital screens at all levels of the company.
Continuous improvement
Lean manufacturing
Machinery management
Andon
Visual management
What is the ANDON system and lamp?
ANDON LED electric columns correspond to light signals. In Japanese culture, the term ANDON, amongst others, means "go to the light". It is a tool based on an autonomation approach called "Jidoka", which involves stopping any activity in the event of an incident or alert to resolve a problem immediately. This technique significantly limits losses or quality problems on shop floors or at workstations. The purpose of this approach is to resolve problems as quickly as possible and to incorporate them in a continuous improvement process.
This means recording and using data from previous problems to reduce fix time. Particularly if the incident happens again. Moreover, it is about short time frames and taking small steps. They result in a significant reduction in lost time and non-quality costs. The Toyota Manufacturing system adopted this philosophy. It has become a standard in visual management and Lean Manufacturing.
Each workstation was supplied with these LED lamps, and on each signal, a process was carried out on any type of device or assembly station if needed. Industrial settings are very precise environments. It is essential to organise operators to ensure optimum productivity. It is crucial for the company to have rapid access to information. This ensures a good response and fosters rapid decisions. Companies are adopting these light columns, more specifically leaders in industry and logistics.

The ANDON device comprises light columns in different colours. These LED lights are mounted to workstations or in shop floors. In the event of a quality problem or fault, the operator can directly signal an anomaly, which will trigger the light and create an alert directly. Inspired by a Call-for-Action system, this LED technology is ideal to keep saving time as well as identify the source of the signal. These products can be fitted on any shop floor furniture.
How does the ANDON system work ?
These signalling light columns can be used to preventively understand faults, anomalies or a loss of quality. This product is a genuine management tool, as the LEANANDON light column considerably reduces time spent on assembly, thus optimising internal costs. It is an alarm product visible from a distance which can be automatically or manually triggered when an incident or problem is detected, as the accessory is fitted to the shop floor furniture.
These LED columns are an integral part of the monitoring process to target continuous improvement and ongoing efficiency. The lamps and lights are control points in the production line. There are no blind spots as the lights offer 360° illumination. This feature helps identify the entire supply chain or an entire shop floor. The adjustable column allows you to signal several statuses, conditions, uses, installations or processes. The colours correspond to predefined signals and allow you to identify the type of alert immediately (colours: green, yellow, red and blue). The columns have two light modes (fixed or permanent). The LED columns offer excellent visibility from any position. You are free to choose your colours so you can establish your own signalling language.
The Andon network antenna box :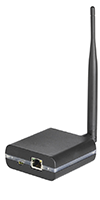 The network antenna box is wireless and collects production process data from its source. It is quick and easy to assemble from its electrical connection stand. Easy to assemble and activate from your shop floor furniture, these columns allow you to save time and money.
The Andon control box :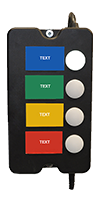 This box is highly robust, designed to withstand industrial environments. It is remote from the light assembly and can be fixed to a workstation or machine. It can be used internationally as it contains interchangeable adapters for the power supply. The operator just presses a button which will trigger the light column and signal the anomaly from their station.
What software should be used for your machinery ?
Software has been developed to use the light columns. It is a networking system which supplies documentation from its box. Downloadable and licence-free software, it provides indicators to anticipate and understand anomalies or faults, and thus streamline production. It is an MDR alternative (gathering smart machine settings) which uses data and supplies documentation as well as analyses unproductive downtime.
With no need to connect to a PC, we can obtain data and information thanks to the radio module.
The ANDON electrical system adds quality control to the production line itself. The technology also improves operator skills after each LED signal and its analysis. Thanks to this tool, it is much easier to implement standards or procedures, and it saves time and ensures quality.
Discover all our solutions and software intended for industry 4.0.
LED light columns are used each day and offer immediate responsiveness. All combinations are possible as this product is completely adjustable and adaptable.
The accessories can be installed anywhere, and so there are various possible applications.
To find out more about LED lamps…
These LED lamps are usually used in production. However, we can use them in a visual management system and more specifically to fix problems. These products can be used in production security or the supply chain for example. As part of a security and internal protection approach, all features of the electric LED product lend themselves perfectly to security and protection requirements.